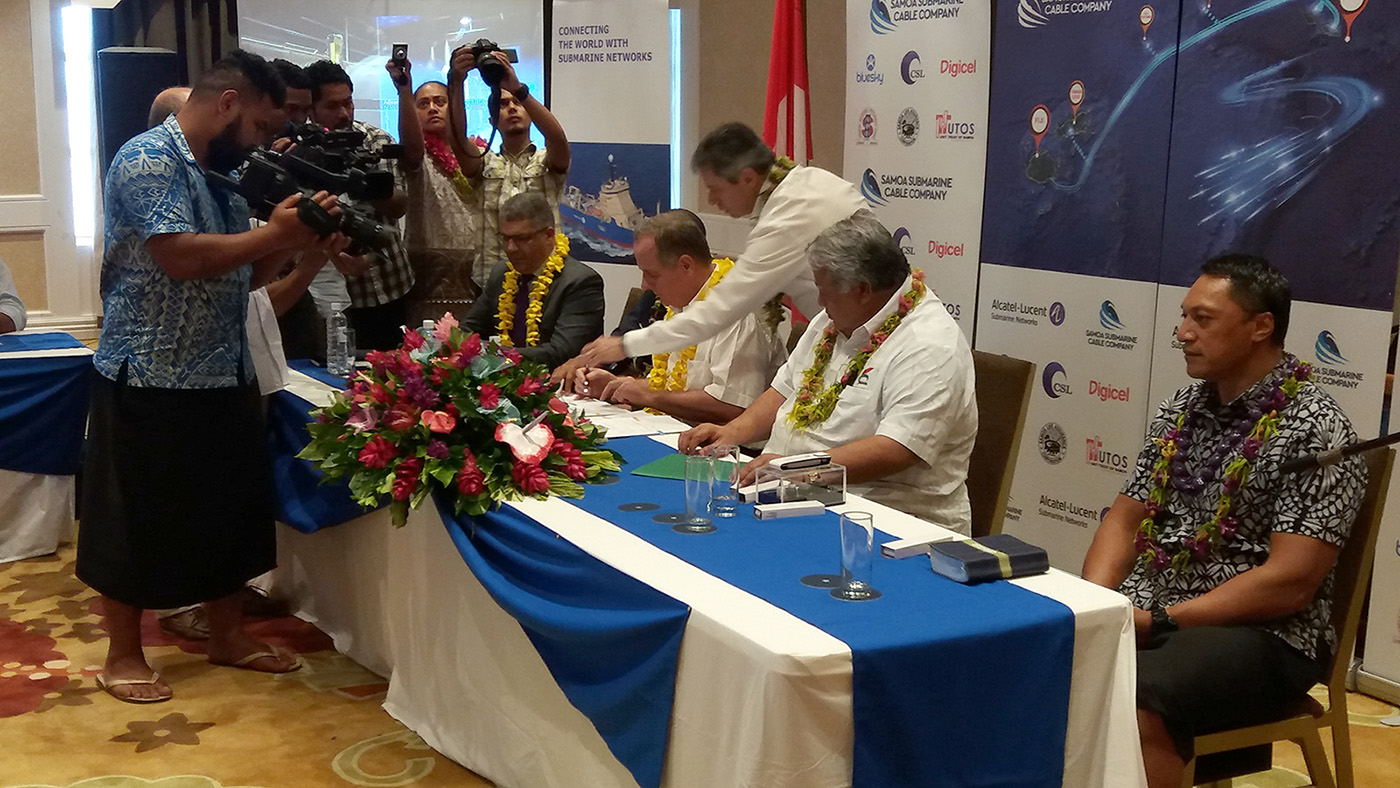 The Territory of Wallis & Futuna and the island of Vanua Levu, Fiji, join the Tui-Samoa Cable family
Samoa's new Tui-Samoa Cable will span more than 1,470 km, connecting Samoa to Fiji with branching units to Wallis & Futuna and Vanua Levu, Fiji, enhancing fast, reliable and affordable internet services across the region.
Apia, Samoa and Paris, France, 25 November 2016 – on 18 October 2016 Samoa Submarine Cable Company Limited (SSCC) and Alcatel-Lucent Submarine Networks, part of Nokia, signed a turnkey contract to roll out a new 1,470 km submarine cable system named Tui-Samoa Cable, linking Apia, Samoa, to Suva, Fiji, providing an advanced broadband highway in order to drive social and economic growth.
Six weeks later the SSCC is pleased to announce the addition of the Territory of Wallis & Futuna Islands and the island of Vanua Levu (Fiji) as part of the Tui-Samoa submarine cable system. Tui-Samoa Cable will deliver up to 8 terabits-per-second (Tbit/s) capacity using 100 Gbit/s transmission technology.
Honourable Prime Minister, Auelua Fatialofa Tuilaepa Sailele Malielegaoi, said:
"Tui-Samoa Cable will help improve the lives of ordinary Samoan people; it will provide school children in rural schools the opportunity to access a whole new world of information and access online education, Businesses will be able to dramatically increase their customer base and aggressively market their goods and services online to the world and sell "Made in Samoa", Government will also leverage the improved connectivity to speed up its eGovernment program and improve service delivery to our people. The 'Strategy for the Development of Samoa' (SDS) sets out government's vison to help improve the lives of our people, and Tui-Samoa Cable is one of the key government enablers that will help us achieve that goal.
On behalf of the Government of Samoa I would like to thank our development partners –
the Asian Development Bank, the World Bank and the Australian Government for their extraordinary support of the 'Samoa Connectivity Project,'

the Honourable Minister of Communications & Information Technology, Honourable Afamasaga Rico Tupai and members of the Samoa Connectivity Project,

SSCC equity investors and directors.
Lastly, I would also like to challenge the Samoa submarine cable company to deliver upon your promise to provide fast, reliable and affordable internet not only for Samoa but also for our partners from Wallis & Futuna and Vanua Levu."
Pepe Fia'ailetoa Christian Fruean, Chairperson of SSCC, said:
"Samoa Submarine Cable Company is committed to delivering fast, reliable and affordable internet services as a basic right for all Samoan people; we are also pleased to extend that opportunity to the people of Wallis & Futuna and Vanua Levu. Information is power and SSCC is pleased to be the means to empower rural and developing communities by providing them access to information and services that will help improve their people's lives and also accelerate ICT development and growth in the region."
Paul Gabla Vice President Sales & Marketing, of Alcatel-Lucent Submarine Networks, said: "The continued need for broadband access is driving new projects in the Asia-Pacific region. We are pleased to work with SSCC in helping them enhance broadband capacity and connectivity for Wallis & Futuna and also Vanua Levu, institutions and businesses by making our expertise and knowledge of the Pacific area available."