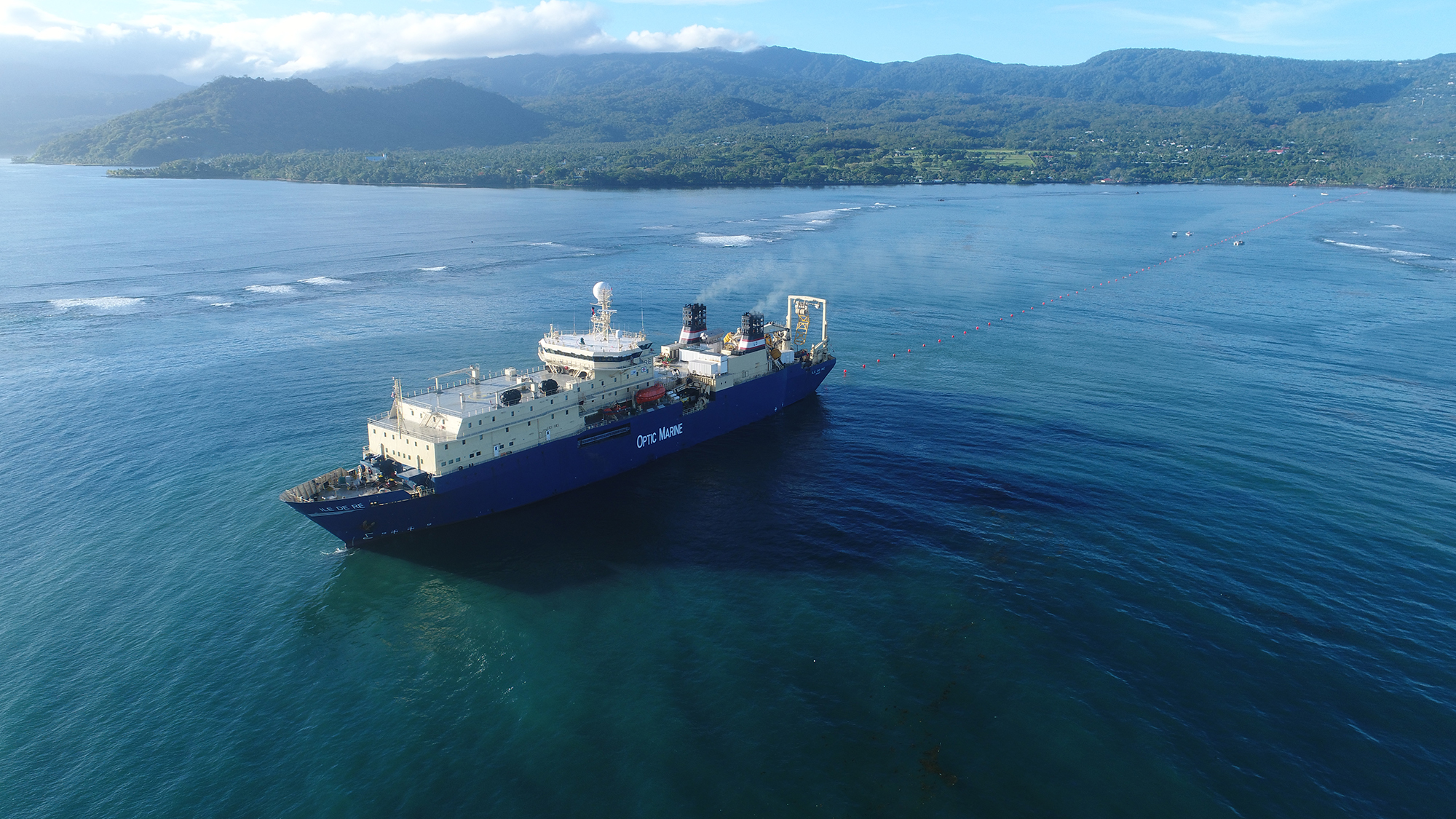 Tui-Samoa submarine cable system reaches final splice stage, enhancing submarine connectivity across the Pacific islands
Apia, Samoa, December 26, 2017 – Samoa Submarine Cable Company Limited (SSCC) and Alcatel Submarine Networks (ASN), part of Nokia, are pleased to announce the completion of the marine installation of the Tui-Samoa submarine cable system, with the final splice done today, 26th December 2017. As a result, Samoa, Fiji, Wallis and Futuna islands are now inter-connected with a submarine optical fiber system which spans more than 1,470 km, providing an advanced broadband highway for inclusive social and economic growth.
Honourable Minister Afamasaga Lepuia'i Rico Tupai, Minister of Communications and Information Technology, Samoa, said: "This is a significant milestone for our Samoa Connectivity Project, which has been possible with the enormous support and commitment of multiple development partners and by Alcatel Submarine Networks. This reinforces the Government of Samoa's commitment to universal access and high speed broadband connectivity for all our people."
Leiataua Alden Godinet, Chairperson of SSCC said: "This is another step forward to deliver fast, reliable and affordable internet services to the people of Samoa and to enhance broadband capacity and connectivity for the institutions and businesses to foster social and economic development."
Philippe Piron, President of Alcatel Submarine Networks, said: "We are pleased to support SSCC in delivering new connectivity that can give broader opportunities to Samoan and neighbouring people. ASN's technology and exepertise will contribute to deliber a new service experience to end-users that will be able to access advanced on line applications efficiently and rapidly."
Strengthening Samoa's domestic and international connectivity, the Tui-Samoa submarine cable system have landing points in Apia and Tuasivi (Samoa) and Suva (Fiji) and delivers a capacity of at least 8 Terabits-per-second (Tbit/s) using 100 Gbit/s transmission technology. The system also has extensions to the islands of Vanua Levu – Savusavu (Fiji) and Wallis & Futuna.
About Samoa Submarine Cable Company Limited
SSCC is a private company incorporated in Apia Samoa and will build, manage and operate the Tui-Samoa submarine cable between Apia Samoa, Suva Fiji and Wallis & Futuna. SSCC will operate a Cooperative Sustainable Wholesale Model (CSWM) with the mandate to deliver fast, reliable and affordable internet services to stimulate ICT innovation and development as an enabler of economic growth and social prosperity for the people of Samoa.
Samoa Submarine Cable Company Press Contacts
Moli Seanoa               [email protected]   T : +685 774 0255
About Alcatel Submarine Networks
Alcatel Submarine Networks leads the industry in terms of capacity and installed base with more than 590,000 km of optical submarine cables/systems deployed worldwide. From traditional telecom to new Oil & Gas applications, ASN provides every part of a global undersea transmission network, all tailored to the customers' needs. An extensive service portfolio completes its comprehensive offering for the submarine business, including project management, installation and commissioning, as well as marine operations and maintenance performed by its fleet of cable ships.
Alcatel Submarine Networks Press Contacts
Francesca Cazzaniga         Francesca.[email protected]                       T : +33 (01) 60 40 11 96